POLYESTER FILTER BELT FOR SLUDGE AND SEWAGE SOLID CONTROL

Polyester mesh belting has open mesh surface allowing rapid drainage and outstanding cake release. It is used as sludge dewatering filter for vacuum press filter and multi-roll belt presses. Designed with steel joints or other connection styles.
Characteristics and Advantages of Drainage Mesh Fabric
Good water permeability
Good air permeability
Acid- resistance, alkali- resistance, temperature resistant
Heat resistance under 180 degrees
Waterproof polyester filter mesh for sludge dehydration with smooth surface mesh, high strength, excellent conduct electricity and saving energy;
Applications
Polyester synthetic filter mesh screen for dewatering is mainly used for sludge treatment in food processing industry and sewage treatment factories,such as paper making,printing and dying, washer wrinker fabric factory etc. Industries listed below:
- Filtration
- Sludge dewatering
- Industrial draining usage
- Food cleaning and processing

Sludge dewatering mesh belt used for wastewater treatment plants, illustrated as below: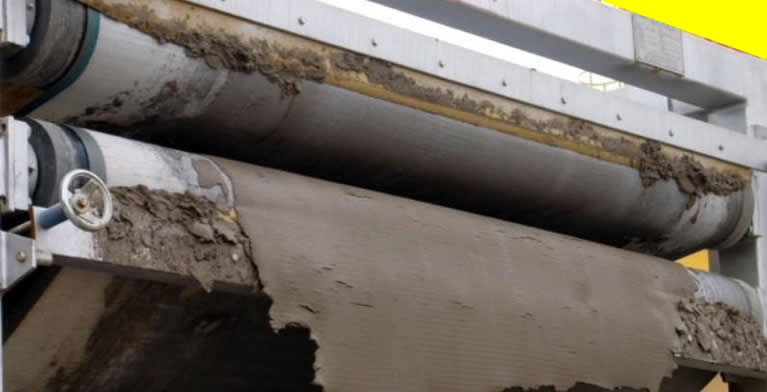 Anti-static waterproof polyester fabric with good air and water permeation, while retaining the sludge
Hygenic Synthetic Filter Mesh with high draining capabilities used for Slurry Treatment in Fruit and Vegetable Juice Pressing. Supplied with either Polyurethane or PVC edges, suitable for the food processing industry. Easy to wash and clean.


Filtration Cloth Mesh for Vacuum Press Filter Belt in Solid and Liquid Seperation and Filtration


Waster Water Filter Mesh Netting Cloth Used as Press Belt, Dewatering Mesh for Paper Making Screen, as Drying and Forming Fabric
Materials and Specifications
Materials: 100% Polyester fiber.
Technical Specification List:
Model
Wire diameter
mm
Density
Root/10cm
Air permeability
m3/m2h
Net weight
g/㎡
Strength
kg/cm
Used in
Warp
Weft
Warp
Weft
WNW14803
0.7
0.8
142
47-60
3900- 8500
1400
240
Sludge, Squeeze juice
WNW16803
0.7
0.8
156
46-50
6000
1400
265
Sludge, Squeeze juice
WNW16904
0.75
0.9
156
47
8000
1800
280
Iron and steel industry sludge dewatering and
Life sludge dewatering
WNW121054
0.9
1.05
120
42
8000
1650
340
Iron and steel industry sludge dewatering
WNW22903
0.5
0.9
220
50-55
9000- 10000
1200
200
Life sludge dewatering
WNW20703
0.5
0.7
200
70
10000
1000
185
Life sludge dewatering and
Chemical sludge dewatering
GW24504
0.5
0.5
240
130-140
8500- 10000
1180
220
Paper dry network and
Paper sludge dewatering
WNW08903
0.9
0.9
78
50
8500
1430
210
Industrial sludge dewatering
WNW16704
0.7
0.7
160
90
12000
1350
265
Building materials industries
WNW26908
0.5
0.9
26.4
69-75
5000- 5500
1364
240
Viscosity of the large Sludge
CXW12 Mesh
0.75
0.8
47
48
650
94
Paper pulp washing
Other Belting Products You May be Interested:

Conveyor Belt for Fiberboard and Medium Density Board Processes
Press Belt for Horizontal and Vertical Belt Presses