SYNTHETIC FIBER FILTER BELT FOR PRESS PROCESS: Paper Making and Coal Mining Screen

Filter belt of polyester or dacron mesh is designed as screen media for high pressure press-filters and belt presses filtration system. The synthetic filter cloth has great strength, stability, excellent chemical resistance and cake release properties. The fabric is woven with spiral wire in big loop or large loop, medium loop, and small loop to achieve varified filtration ratings. The mesh belt is popularly used used for paper making, as drainage filter mesh for pulp machine pressing uses, also coal washer, metal and mineral concertration and food industry. We offer press filter screen with seam, non woven and coated mesh types.
Polyester Mesh Belt Used with Following Filtration Systems

Wire Mesh Press Belt for Horizontal Vacuum Belt Filters:
Available in seamless mesh type with mechanical joints.
Applications: Dewatering and coveyer belt in coal dewatering, sugar mud dewatering, mineral concertrates.
Mesh Belt for Multi Roll Belt Presses:
Available in plain woven mesh or spiral link mesh fabrics.
Applications: Dehydration belt in coal washing and dewatering, waste water treatment of activated and digested sludge treatment and heavy metal removing.
Filter Belt for Vertical Automatic Pressure Filtration System:
The spiral type mesh belting is dimensionally and mechanically stable for continuous production.
Application: Mineral concentrate dewatering, metal purification, sugar mud and starch slurry treatment.
Product Types and Specific Uses:

Conveying Belt for Coal Mining and Heavy Metal Industries as Screening Filters:


Polyester (PET or Nylon ) Monofilament Fabric of Loop Yarn, for liquid-solid separation, applied for belt filter presses and chamber filter presses for steel mills, power plants, paper mills and petroleum refineries, food processing, breweries, pharmaceutical and textiles.

Plain Weave or Spiral Industrial Belt for Wastewater Treatment:

Spiral Link Mesh Belt for Paper Mills Press Filter as Conveyor Belting Fabric Dealing with Wasterwater


Plain Weave Filter Belt for Sludge Dewatering Treatment:

It has optimized air permeability, high degree of lateral stability and high mechanical strength, and non-revealed sludge, acid resisiting, and can be easily peeled off and clean. Usually, the joint is steel clip to strong.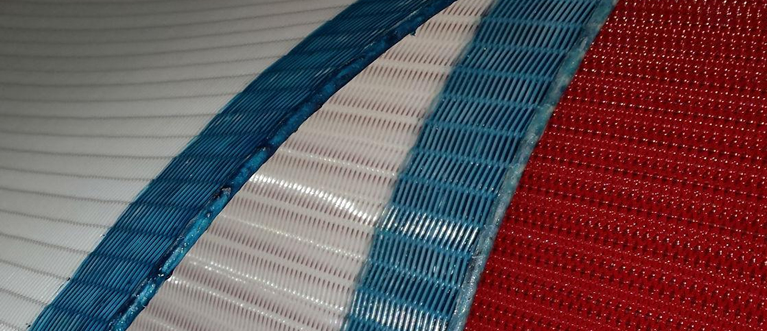 Easy Cleaning, Washable Polyester Wire Mesh Conveyor Belt Used for Heat and Wet Pressing Process
Applications

Polyester press belt can be used on horizontal belt filtering machine or vertical filtering machine of many industries listed below:
Printing and dying;
Food;
Salt industry;
Pharmacy;
Environment protection;
Metallurgy;
Power-generation;
Oil processing;
Coal & Mining;
Chemical;
Cement and other industries.
Materials and Specifications:
The screen materials offer faster turnaround time from the screen room to the pressroom. The mesh shall have good diathermancy, high air permeability, good acid resistance and lkali resistance.

Main Technical Data of Filter Press Belt:
Loop Weave Model
Wire / Thread Diameter (mm)
Thickness(mm)
Weight(kg/m2)
Air Permeability
(m3/m2h)
Warp
Weft
Large Loop 4070B
0.9
1.1
3
1.7
20500+-1500
Large Loop 4070A
0.9
1.1
3
1.9
5250+-500
Medium Loop 3868B
0.7
0.9
2.5
1.4
18500+-1500
Medium Loop 3868A
0.7
0.9
2.5
1.7
4750+-500
Small Loop 3252B
0.5
0.7
1.9
1.1
15000+-1500
Small Loop 3252A
0.5
0.7
1.9
1.4
4000+-500

Breaking Strength:
| | |
| --- | --- |
| LW4.0x7.0 | >2300-2800N/cm |
| LW3.8x6.8 | >2100N/cm |
| LW3.2x5.2 | >1800-2000N/cm |
We also supply: shoe press belt, high sheet dryness level, conveyor belt and calendar belt.