POLYESTER SPIRAL MESH FOR PAPER FORMING PROCESS, 4-shed, 5-shed, 7-shed, 8-shed and 16-shed weave, in single or multi layer fabrics.
Polyester forming mesh is made with 100% polyester monofilament fiber or nylon, woven in spiral and heddle inserting method. The tensile polyester fabrics form a tensile conveying belt in producing of paper, corrugated paper board, filtration and separation in environmental protection, pharmaceutical, mine, metallurgy, machinery, airspace and other fields. The synthetic polymer mesh netting enjoys a high degree of stability and long running life.
Procedure of Paper Producing and How is Polyester Mesh Used
Pulp diluting is first step for making papers and paperboards. The pulp is diluted, mixed, then conveyed through the forming fabric. Forming fabric is mostly thin fabric of polyester and polyamide monofilament which will dehydrate the slurry while retaining the wood fibers within. Hence, a kind of sheet is formed or molded. The fine polyester screen as conveyor belt used in this process, helps the sheet forming by offering effective drainage. It is called Forming Fabric. Normally, coarse mesh screen is used to manufacture heavy paper grades and corrugated paperboard boxes. Very fine mesh fabrics are selected for lightweight writing grade and printing grade papers manufacture.


Polyester forming fabric can be supplied with different shed and layer styles, suitable for processing of different grade papers:
4-shed single layer mesh screen is suitable for making culture, printing and packing papers;
5-shed single layer mesh is suitable for making healthcare, culture and packing papers;
8-shed single layer fabric is suitable for making high basic weight corrugated and packing papers;
16-shed double and a half layer fabric is suitable for macking quality printing paper, tissue paper and surface pulp, inner pulp and base pulp of the board paper;
Multi-shed three-layer fabric is suitable for making quality printing paper, tissue paper and cigatette paper.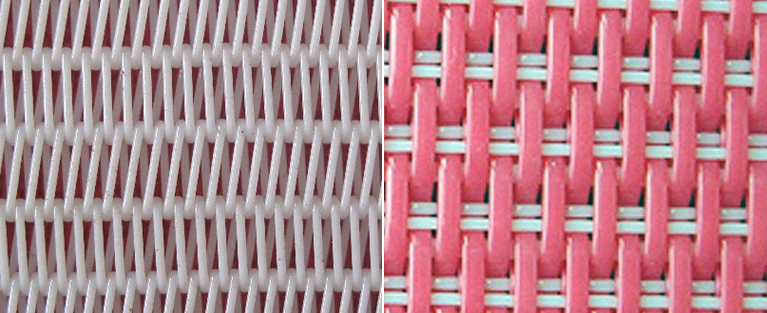 Synthetic polyester forming fabrics used as paper making screen, can offer improved drainage and sheet consistency, higher production and longer life at a lower cost per ton of paper produced.
Joint Types or Seams for Paper Making Screen:
Endless seam type, fold ring seam type, spiral ring seam or hook jointing.

Forming Fabric Screen For Advanced Printing Paper Manufacturing: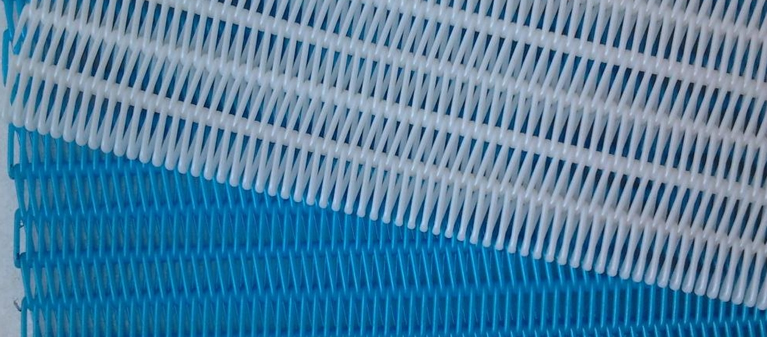 Slice Processing Mesh of 4 sheds for making surface pulp, inner pulp and base pulp of board paper
Sheds and Layer Styles of Paper Forming Screen:
| | | |
| --- | --- | --- |
| | | |
| Four-Shed Single Layer Forming Screen, 0.68 elongation, 7500 air permeation | Five-Shed Single Layer Mesh Fabric, 0.60 elongation, 7000 air permeation | Eight-Shed Single Layer Polyester Fabric, 0.65 elongation rate, 9000 air permeation |
| | | |
| Seven-Shed Double Layer Fabric | Eight-Shed Double and A Half Layer Fabric, 0.60 elongation, 4750 air permeation | Sixteen-Shed Polyamide Mesh in Double and A Half Layer Weave, 0.60% elongation, 8000 air permeation |
Feature
Long service life, wear resistance
High fatigue resistance, acid, weak alkali resistance
Good forming uniformity
Light weight, easy to transport, easy operation
Products Materials and Detail Technical Data

Weaving Series and Types
Model of Fabric
Thread Diameter
mm
Density (pieces
/cm)
Strength
(N/cm)
Thick-
ness mm
Air
Permeation m3/m2h
Max. Elongation
at 50N/cm
Warp
Weft
Warp
Weft
Mesh Surface
Inserting Place
Four-Shed Single Layer Forming Screen
27254
0.20
0.25
30
22
=600
=400
0.49
8000
0.60%
27254-1
0.20
0.25
30
23
=600
=400
0.495
7500
0.60%
27254-2
0.20
0.25
30
24
=600
=400
0.50
7000
0.60%
27274
0.20
0.27
30
21.5
=600
=400
0.51
7800
0.60%
27274-1
0.20
0.27
30
22.5
=600
=380
0.515
7300
0.60%
31204
0.18
0.20
35
28
=600
=380
0.43
7500
0.68%
31204-1
0.18
0.20
35
30
=600
=380
0.43
7000
0.68%
31204-2
0.18
0.20
35
30.5
=600
=380
0.43
6500
0.68%
Five-Shed Single Layer Forming Screen
28205
0.20
0.20
30
27.5
=600
=400
0.46
6800
0.60%
30205
0.17
0.20
32
28.5
=500
=350
0.41
7100
0.60%
30175
0.17
0.17
32
29.5
=500
=350
0.39
6600
0.60%
31215
0.20
0.21
35
32
=600
=400
0.48
7000
0.60%
Eight-Shed Single Layer Forming Screen
25358
0.22
0.35
28
19.5
=700
=500
0.85
9000
0.65%
25388
0.22
0.38
29.5
19
=700
=500
0.87
8500
0.65%
27358
0.22
0.35
29
20
=700
=500
0.85
8500
0.65%
27388
0.22
0.38
31.5
19
=700
=500
0.87
8000
0.65%
Seven-Shed Single Layer Forming Screen
50207
0.20
0.20/0.22
0.22(t66)
54.7
36.6
=800
=600
0.71
5800
0.60%
56177
0.17
0.17/0.20
0.20(t66)
60
48
=800
=600
0.635
5200
0.60%
57177
0.17
0.17/0.22
0.22(t66)
65.7
49.6
=800
=600
0.635
4550
0.60%
64177
0.15
0.17/0.17
0.17(t66)
70
50
=800
=600
0.59
5200
0.60%
Eight-Shed Double Layer Forming Screen
56188
0.17
0.18/0.20
0.20(t66)
61.3
51.2
=850
=600
0.65
5700
0.60%
60188
0.18
0.19/0.20
0.20(t66)
66
49
=900
=650
0.68
4750
0.60%
62188
0.15
0.16/0.19
0.19(t66)
70.5
50.5
=900
=650
0.60
6200
0.60%
Eight-Shed and Sixteen-Shed Double and A Half Layer Screen Data
Model of Fabric
Thread Diameter mm
Density/cm
Air
Permeation
m3/m2h
Warp
Weft (Up/Lower)
Warp
Weft
2B3316
0.28
0.20,0.27/0.40,0.40
37~38
40~41
6000
2B3316-1
0.28
0.20,0.27/0.45,0.45
37~38
37~38
6000
2B3316-2
0.28
0.20,0.27/0.45,0.45
37~38
31~32
8000
2B5008
0.17
0.13,0.18/0.32,0.32
55~56
48~49
6500
2B5216
0.17
0.17,0.22/0.27,0.27
57.5~58.5
50~51
5300
2B5216-1
0.17
0.19,0.22/0.35,0.35
57.5~58.5
43.5~44.5
6200
2B5408
0.17
0.13,0.20/0.35,0.35
59~60
43~44
6300
2B5416
0.17
0.13,0.20/0.35,0.35
59.5~60.5
42~43
6000
2B5608
0.17
0.13,0.18/0.22,0.22
61~62
52~53
5700
2B5608-1
0.17
0.13,0.20/0.25,0.25
60~61
54~55
5600
2B5608-2
0.17
0.13,0.20/0.32,0.32
60~61
48~49
6000
2B5608-3
0.17
0.13,0.20/0.35,0.35
60~61
47~48
5600
2B5608-4
0.17
0.13,0.20/0.32,0.32
61.5~62.5
55.5~56.5
6900
2B5608-5
0.18
0.13,0.18/0.22,0.22
62~63
53~54
6800
2B5608-6
0.18
0.13,0.20/0.25,0.25
61~62
61~62
5940
2B5608-7
0.15
0.13,0.18/0.25,0.25
62~63
53~54
6600
2B5608-8
0.15
0.13,0.18/0.32,0.32
61~62
56~57
6400
2B5608-9
0.17
0.13,0.18/0.35,0.35
61~62
51~52
6900
2B5608-10
0.17
0.13,0.22/0.35,0.35
61.5~62.5
48.5~49.5
5800
2B5808
0.17
0.13,0.18/0.22,0.22
63~64
53~54
6500
2B5808-1
0.17
0.13,0.20/0.25,0.25
63~64
54~55
5000
2B5808-2
0.17
0.13,0.20/0.25,0.25
63~64
51.5~52.5
5100
2B6208
0.17
0.13,0.18/0.20,0.20
68~69
56.5~57.5
5500
2B6208-1
0.17
0.13,0.18/0.20,0.20
68~69
54.5~55.5
6000
2B6208-2
0.17
0.13,0.18/0.23,0.23
63~64
51.5~52.5
5100
2B6216
0.17
0.13,0.18/0.23,0.23
68~69
61.5~62.5
5600
2B6216-1
0.17
0.13,0.20/0.25,0.25
68~69
64.5~65.5
6400
2B6216-2
0.17
0.13,0.18/0.25,0.25
68~69
51.5~52.5
5400
2B6216-3
0.17
0.13,0.20/0.35,0.35
68~69
52.5~53.5
5500
2B6216-4
0.17
0.13,0.20/0.35,0.35
68~69
49.5~50.5
8000
2B6216-5
0.17
0.13,0.20/0.35,0.35
68~69
46.5~47.5
7000
2B6408
0.17
0.12,0.18/0.20,0.20
70~71
57~58
6200
2B6408-1
0.17
0.12,0.18/0.20,0.20
70~71
65~66
6500